By Marc Lieber, CNN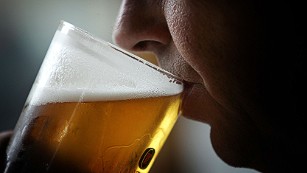 Excessive alcohol use could increase your risk for all types of dementia, particularly early-onset dementia, according to a new study. Research involved more than 1 million adult patients released from hospitals in France. Alcohol abuse was also associated with vascular risk factors, including high blood pressure.
The study, published Tuesday in the journal Lancet Public Health,
looked at over 1 million adults
released from French hospitals between 2008 and 2013 who were diagnosed with dementia, a clinical syndrome characterized by a progressive deterioration in cognitive ability. Using data from the French National Hospital Discharge database, the researchers found that alcohol-use disorders were diagnosed in 16.5% of the men with dementia and 4% of the women with dementia — over twice as much as in those without dementia for both sexes. Alcohol-use disorders refer to "the chronic harmful use of alcohol or alcohol dependence," the researchers wrote.
In order to isolate the role of alcohol use, patients with neurological disorders such as
Parkinson's and Huntington's
, which can also lead to dementia, were excluded from the study. "The most novel result is the large contribution of alcohol-use disorders to the burden of dementia over the lifespan," said Dr. Michael Schwarzinger, a researcher at the Transitional Health Economics Network in Paris and a leading author of the study.
The association was particularly strong for those with early-onset dementia, diagnosed when the patient is younger than 65. Over half of the individuals in the early-onset group had alcohol-related dementia or an additional diagnosis of alcohol-use disorder.
"Given the strength of the association, what is the most surprising to me is that alcohol-use disorders had received so little interest in dementia research and public health policies," Schwarzinger said.
How alcohol might damage the brain
Although many studies have shown a strong association between excessive alcohol use and dementia, this study is unique in its findings about early-onset dementia, according to Dr. Kostas Lyketsos, a neuropsychiatry professor and director of the
Johns Hopkins Memory and Alzheimer's Treatment Center
who was not involved in the study. "That is rather unique," Lyketsos said. "It does remind us that alcoholics have shorter life expectancies." The study was also among the largest of its kind. But, according to Lyketsos, the large size could leave the study open to selection bias. "There's a tradeoff between size and precision of the variables," he said. "The more people you have, the less confidence you have in the elements that go into the diagnosis of dementia. "I also want to point out that this was really a sample of hospitalized individuals. It's very unusual for people with dementia, at least in the milder stages, to be hospitalized," he added.
Research suggests multiple ways heavy alcohol use can lead to dementia. First, ethanol and its byproduct acetaldehyde are known to have a toxic effect on the brain that can lead to long-term structural and functional brain damage, Schwarzinger says.
Heavy alcohol use can also lead to a condition called hepatic encephalopathy, characterized by a loss in brain function due to increases of ammonia in the blood caused by liver damage. "Heavy drinking is also strongly associated with vascular risk factors such as high blood pressure or diabetes mellitus as well as cardiovascular diseases," Schwarzinger added. "Lastly, heavy drinking clusters (in) people with less education, smoking habits, and/or depression. All of these factors were found to be independent risk factors for dementia onset."
Though heavy alcohol use increased the risk of dementia in general, the association was shown to be stronger in men.
When other factors were not controlled for, heavy drinking was associated with a higher risk of dementia among both men and women. In men, the risk was increased by a factor of 4.7, while in women, it increased by a factor of 4.3. But even when the researchers controlled for factors like high blood pressure, obesity and tobacco smoking, heavy alcohol use was still associated with a more than threefold increase in dementia among both sexes.
Results differed by sex
The study also showed that the average age of dementia onset differed between men and women. Men were more likely to develop it a younger age and women at an older age.
 "Gender differences on dementia onset have been puzzling for decades," Schwarzinger said. "Men have a poorer lifestyle than women on average, in particular heavier alcohol consumption. Therefore, it is somewhat unsurprising that early-onset dementia identifies a cluster of men with alcohol use disorders." The gender difference could also result from the study's methodology, according to Lyketsos. "That was one of the reasons I'm a little concerned about selection bias," he said. "There could be a gender effect on who goes to the hospital with dementia."
Alcohol use was also not objectively measured in the participants, one of the study's main limitations. "We have no idea what is the level of drinks they were actually drinking," Schwarzinger added. "That kind of information you can only get in a cohort study with a questionnaire." Though the study had a very large sample size, it looked at individuals in only one country, making it difficult to generalize across cultures. According to
a 2014 report
from the World Health Organization, each person consumes an average of 12.2 liters of pure alcohol in France versus 9.2 liters in the United States. But Schwarzinger cautioned that people outside France should still take the findings seriously: "While the rate of alcohol use disorders is lower in the USA, it remains substantial enough to be considered major risk factor for dementia onset."
Read the full article here.
Access the ALAViDA TRAiL app.